Email

Home

Victoria

Qld

S.Aust

W.Aust

Tasmania

Agility/Obedience - All States

Webrings/Links

Golden Greats 1965-1985

Australian National BIS Winners

Notable Boxers

SUPREME GRAND CHAMPION Boxers

For further information regarding the BOXER featured click on photo and
It will take your direct to the Owner/Breeders Kennel
Website or Email Address


All NSW Boxers are in Date Of Birth Order (From 1985) upwards


PAGE ONE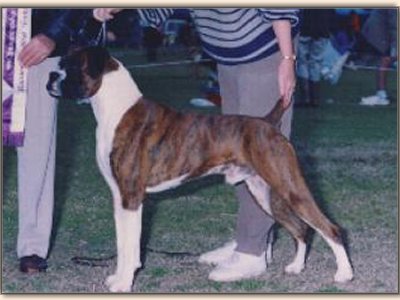 Aus Ch Guntop Shadowman

Sire: English & Australian Champion Summer Shadow of Gremlin (Imp UK)
Dam: Australian Champion Guntop Up To The Minute

Date whelped: 8.4.87
Owner/breeder: Guntop Boxers

'Gerry' passed away in 2001, at 14 1/2 years of age
Best In Show All Breeds Winner
Runner Up Best In Show All Breeds Winner
Utility Group Winner, together with In Group and Inshow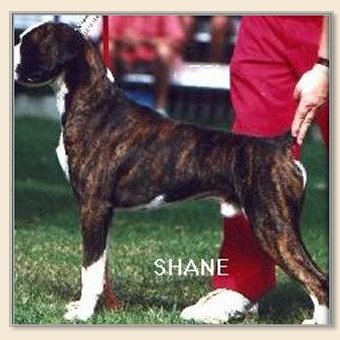 Aus Ch Whitechapel Dark Horizon

Sire: Aust Ch Whitechapel Free N Easy
Dam: Whitechapel Showgirl

Date whelped: 1987
Owner/breeder: J Kelly-Hicks/Mrs J & K Lovell


Shane passed away at 8 years old before the Title of Grand Champion was introduced in Australia. Shane had over 1000'cc's enough to qualify.

He gained his Championship at 13mths together with BISS, In Show and Groups awards, at both Specialist and All Breeds Champ Shows.

He also kept up his winning as a Veteran.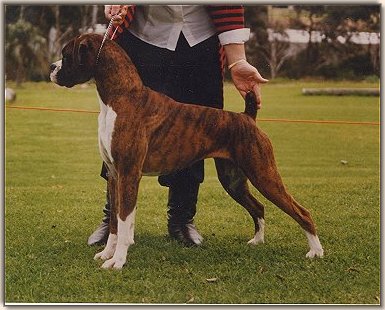 Australian Champion Areba You Essay

Sire: American Champion Salgray's Argo of Memorylane (Imp. USA)
Dam: Whitechapel Hi There

Owner/breeder: Reg & Sue Crossingham
Date Whelped: 6.9.1987

Sassy attained her Aust. Ch. in grand style, 4 x 25 point Challenges in 6 weeks at just 13 months old

Among her wins :

Puppy Bitch on the day, Sydney Royal '88 - Anne Rogers Clarke (USA)

Grand Prize Futurity Winner, Boxer Club of NSW, April '88
Judge: E. Moore (Charmore S.A.)

Runner-up Bitch in Parade,Minor Puppy in Show, Boxer Club of NSW, June '88
Judge: Tony Valli (Kerribrook)

Challenge Bitch, Best in Show & Puppy in Show, Western District Boxer Club,
Sept. '88 - Chris Cray (Klansted, UK)

BOB, BIG, Best Junior in Show, NSW Women's, October '88
Judge: Dr. Harry Spira (NSW)

Challenge Bitch & Runner-up Best in Show, Boxer Club of NSW, October '88
Judge: Betty Clair Frohock (Tudosal, USA)

Challenge Bitch & Runner-up Best in Show, Boxer Club of NSW, April '89
Judge: Jack Boyd (Quo Vadis, NZ)

'Top Bitch' of the year 2 years in a row for 1988 & 1989,
for the Boxer Club Of NSW Point Score

'Sassy' was a natural showgirl and just loved the showring and the applause, along with her brother 'Jazz' (Ch.Areba Flying High - see below) they both went on to win many more In Group & In Show awards.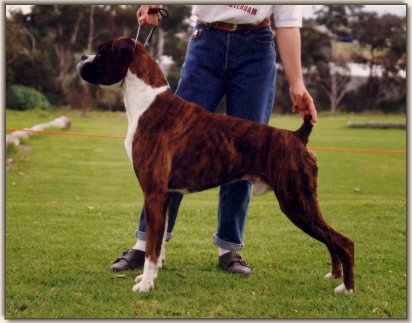 Australian Champion Areba Flying High

Sire: American Champion Salgray's Argo of Memorylane (Imp. USA)
Dam: Whitechapel Hi There

Owner/breeder: Reg & Sue Crossingham
Date Whelped: 6.9.1987

Among his wins :

Puppy in Show, Western Dist. Boxer Club '88
Judge: Sheila Cartwright (Tyegarth Eng.)

Top Boxer Puppy Male, Boxer Club of NSW Pointscore - 1988

Top Boxer Male, Boxer Club of NSW Pointscore - 1989

Also Numerous In Group & In Show

Litter Brother to Australian Champion Areba You Essay (above)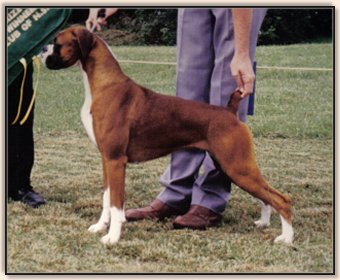 Ch Boxhaven Donna Lee

Sire: Ch Boxhaven Robert Lee
Dam: Boxhaven Hi Mark

Owner/breeder: Mr P & H Foster
Date Whelped: 20.12.87 - P/A 1999

Gained Championship at 10 1/2 mths
BIS All Breeds
BIS Specialty
Sydney Royal CC
Winner of Boxer Club Futurity Sweep Stakes
Puppy Point Score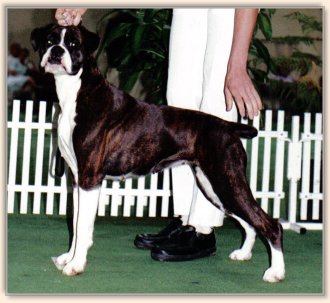 Ch Boxhaven Ebony N Ivory

Sire: Boxhaven Beau Jinks
Dam: Boxhaven Sensation Lee

Date whelped: 6.1.1988
Owner/breeder: Mr P & H Foster


Ebby was Res Chall at Sydney Royal Easter Show
NSW Boxer Club Jnr in Show
Western Dist Boxer Club Aust Bred in Show

Numerous Class in Group and Class in Show Awards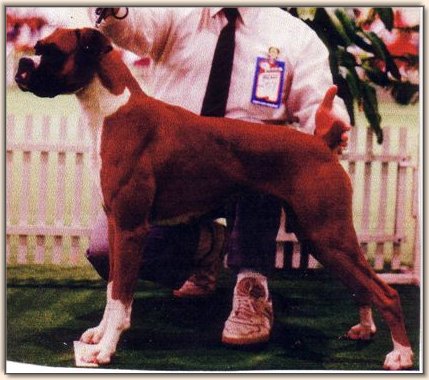 Australian Champion Areba American Pie

Sire : American Champion Salgray's Argo of Memorylane (Imp. USA)
Dam: Aust. Ch. Aysgarth Right Thisway

Owner/breeder: Reg & Sue Crossingham
Date Whelped: 13.4.1988

Chelsea was Top Puppy Bitch of the year 1989
in the Boxer Club of NSW Pointscore

When Areba Boxers took out Top Dog
Top Bitch and Top Puppy of the year

Chelsea wasn't a keen lover of the show ring
but still took out many In Group & In Show awards








Ch Whitechapel Magic Melody

Sire: Aus Ch Whitechapel Free N Easy
Dam: Whitechapel Myth N Magic

Owner/breeder:J Kelly-Hicks/Mrs J & K Lovell
Date Whelped: 1989

Titled at 11 mths
From BBPIS (Bega NSW) to (Consolation) to BIS Orange NSW at 15 Mths
With many Championship Ingroup/Inshow Awards
At All Breeds/Specialiaty level








NSW Boxer Pages

2 3 4 5 6 7 8