Email

Home

NSW

Victoria

Qld

S.Aust

W.Aust

Tasmania

Agility/Obedience - All States

Golden Greats 1965-1985

Webrings/Links

Australian National BIS Winners

Notable Boxers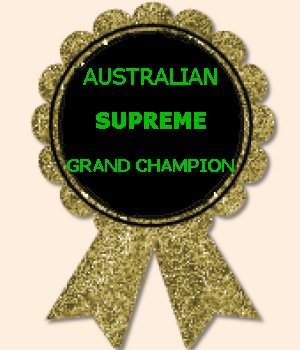 THIS PAGE ALSO INCLUDES
AUSTRALIAN GRAND CHAMPIONS




This Page is dedicated to ANY BOXER either born in Australia or Overseas
who attains these prestigious Titles.



Qualifications for AUSTRALIAN GRAND CHAMPION/AUSTRALIAN SUPREME GRAND CHAMPION are as follows:



Effective from 1 July 2012

Only 1 further CC is required to achieve it.

BUT MUST ALREADY BE:

An Australian Grand Champion (1000 CC pts)

3 ALL BREEDS BEST IN SHOWS - awarded by 3 different All Breeds Judges

OR

10 BEST IN GROUPS - awarded by different All Breeds/Specialty Judges
( A specialty BIS is considered a Group win).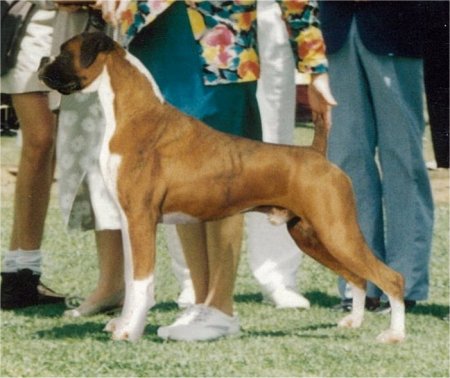 AUST GRAND Ch Thasrite PRINCE CHARMING SOM

'Rudi'

Sire: Aust Ch Faerdorn Raise a Riot (Imp UK) SOM

Dam: Aust Ch KubiK Amazing Grace DOM

Owner/breeder: David and Juanita Strachan - Thasrite Boxers


Date Whelped: 1989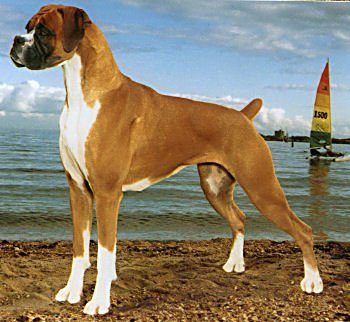 AUSTRALIAN GRAND CHAMPION
Sjecoin By Negotiation (DOM)
"Monica"

Sire: US Ch Merrilanes Golden Gloves (IMP USA)
(SOM)
Dam: Ch Sjecoin Gold Digger (DOM)

Date whelped: 10-4-1993 d: 10-12-2004

Owned by Rosina and David Brace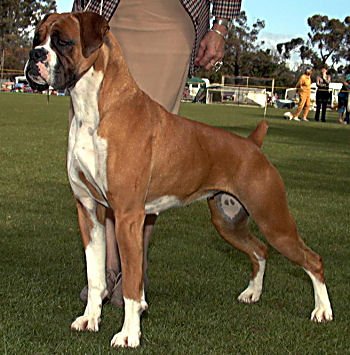 AUSTRALIAN GRAND CHAMPION
Gr Ch Sjecoin Keeping Secrets

"Hope"

Sire: Ch Sjecoin No More Secrets
Dam: Sjecoin That's Negotiable (DOM)

Date whelped: 12-10-1999 - d: 3-12-2007

Owned by Rosina and David Brace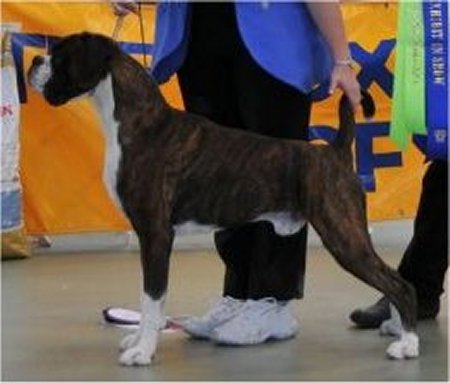 AUSTRALIAN SUPREME CHAMPION THE FONEJACKER AT SURFSTONE
IMP UK HT1 CC

'Jack'

Sire: Boxania Summer Lighning At Surfstone HT0
Dam: Rennlou Bewitched

Date whelped: 29.Aug.07

Owned by Mr DW & Mrs JW Halliday - Australia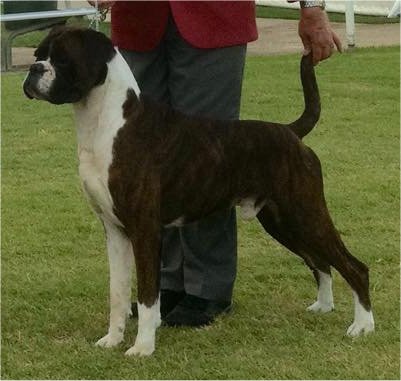 AUSTRALIAN SUPREME GRAND CHAMPION TARGETED BY NEWLAITHE
IMP UK

'Target'

Sire: UK CH Newlaithe On Target JW ShCM
Dam: Pure Illusion over Newlaithe

Date whelped: 5th June 2010

Owned by Faye and David Crooks - Australia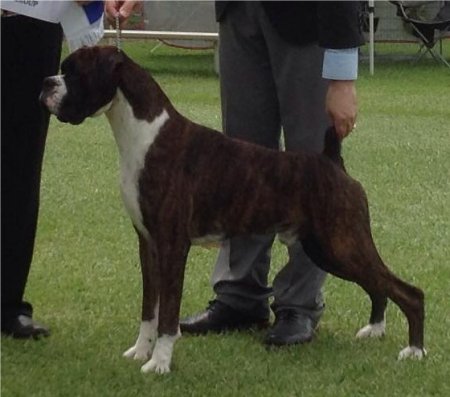 AUSTRALIAN SUPREME GRAND CHAMPION CHIZACK CATWEAZLE - IMP NZL

'Keven'

Sire: UK & IR Winuwuk Lust A First Sight
Dam: GR CH Chizack Innuendo

Date whelped: 28 March 2013

Owner/breeder: A Hobday/B Thompson - A Hobday








AUSTRALIAN SUPREME GRAND CHAMPION BOXCREST SHEER MAGIC CCD

'Tasha'

Sire: Aus GR CH Jimbren Sunseeker to Vineen (Imp UK)
Dam: Ch Boxcrest Whatawitch C.D.X

Date whelped: 31 May 2004

Owner/breeder: E Gordon Pandelis - Boxcrest Boxers








Conformation photo to be inserted ASAP




AUSTRALIAN SUPREME GRAND CHAMPION THASRITE RED ALERT
(Import South Africa)

'Arnie'

Sire: Am Ch Seasides Ewo Surf Breaker (Imp USA)
Dam: Ch Thasrite Lara Croft

Date whelped: 1 October 2005

Owned By: Juanita Strachan, Sam & Sina Castiglione, David Strachan








AUSTRALIAN SUPREME CHAMPION VALESKA BIG EASY (IMP NZ)

'Bastian'

Sire: Valeska Big Dust Up (NZ) -
By AM GRD CH Faerdorn Dust Buster (UK)

Dam: Valeska O For Awesome (NZ)
By NZ GRD CH Winuwuk Brief Encounter (UK)

Date whelped: 29 September 2014

Owned by : Sylvia Choca
Bred by : Lloyd & Dorothy Harrison NZL