Email

Home

NSW

Qld

S.Aust

W.Aust

Tasmania

Agility/Obedience - All States

Webrings/Links

Golden Greats 1965-1985

Australian National BIS Winners

Notable Boxers

SUPREME GRAND CHAMPION Boxers

For further information regarding the BOXER featured click on photo and
It will take your direct to the Owner/Breeders Kennel
Website or Email Address



All Victorian Boxers are in Date Of Birth Order (From 1985) upwards


PAGE ONE



Ch Taratan Shower Bonnet

Sire: Ch Guntop Rocket Man
Dam: Ch Crowlee Miss Winkadale.

Date Whelped: Nov 8 1987

Owner/Breeder John & Roxie Kennedy ( Taratan Boxers)

Rebecca won BPIS at 1st Boxer National under June Grover (UK)
BIS BAOV Specialty under Valerie Garrett ( UK)
BIS Royal Melbourne Show, 1991 under Kari Jarwinnen (Finland) 7321 Entries

As you would imagine she has won countless Challenges & Groups & In Show's but the above are the pick of them.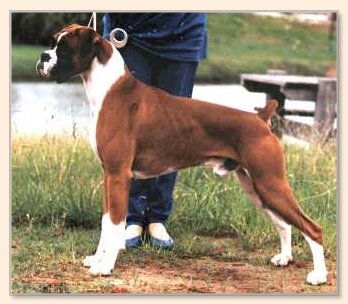 Aus Ch Aspen Gold Plated

Sire: Aust/Mal Ch Sjecoin Solid Gold
Dam: Aust Ch Adken In Vogue

Date Whelped: July 1987 - March 1999

Owner/Breeder Mrs Anna Deane - Aspen

Puppy in class winner at the
Melbourne/Sydney/Adelaide Royal Shows

2 Best in Show All Breeds
1 Reserve Best in Show All Breeds
1 Junior in Show All Breeds
2 Intermediate in Show All Breeds
1 Open in Show All Breeds
4 Best Exhibit in Group
2 Reserve in Group
2 Junior in Group
3 Intermediate in Group
1 Open in Group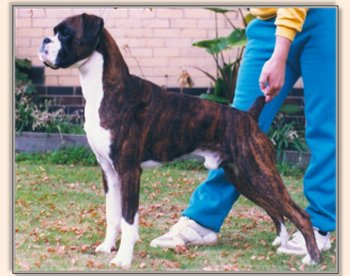 Ch Lambda Whata Surprise

Sire: Ch Moljon Surprise Packet at Marbelton (Imp UK)
Dam: Lamda Love Akiss

Date Whelped: 17.7.1987

Owner/Breeder L Bleakley & Arthur Fry

BIS WDBC Champ Show 12.5.1991 - Judge Mr J Buswell (UK)
Entry of Boxers 291
Multi All Breeds In Show awards

Sire of Grand Ch Beanken Starn Heaven
BIS 6th Boxer National Specialty pictured below








GRAND CHAMPION Sjecoin One Mo Time

"Andrew"

Sire: Ch Sjecoin Winter Forcast (SOM)
Dam: Ch Sjecoin Hey Look Me Over (DOM)

Date Whelped: 4.9.1988-8.6.1999
Owner/Breeder - Rosina Brace

'Andrews' first outing at 4 months of age
Best Baby In Show All Breeds - Mrs. P. Wolfish Canada

Best In show All Breeds

Best In Show Specialty
1991 BAOV Mr.R Burlson USA

1991 Dog CC Melbourne Royal Mr K Jarvanin (Finland)

Many BIG's and RUBIS All Breeds

Sire of 5 Champions








Aus Ch Loujay Rich and Famous

Sire: Ch Aspen Gold Plated
Dam: Aust Ch Intrends Niten Day

Date Whelped: 1990-2000

Owner/Breeder Mrs Val Williamson - Loujay

Fame was a delight to show
unlike her mother was always on her toes

She was a multi group winner and was
never out of the ribbons under both Australian and International judges.








Victoria's Boxer Pages

2 3 4 5 6